| | |
| --- | --- |
| | How to Collect Books |




Vintage Bookstore
123 Main Street
Anytown, NY 20317
USA
(212) 555-4321
(212) 555-1234 fax

Send Us

E-mail

© Copyright 2011
Vintage Bookstore
powered by Website2Go.com
All Rights Reserved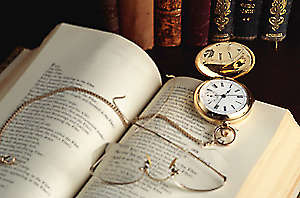 HOW TO COLLECT BOOKS
Bindings, Illustrations And Great Works Of Literature

A classic work of literature by Homer, Dante, Shakespeare or Dickens comes right off the printed page and stamps itself on the mind and emotions of the reader. Great books inspire both the everyday reader and the dedicated craftsman in bookbinding and book production.

Many editions of well known classics have been published since the invention of printing over 500 years ago. The mark of regard in which these works are held is frequently reflected in the quality of their covers (or bindings) and in the illustrations that adorn and illuminate the pages of text. Owning a fine leather bound classic artfully illustrated with engaging woodcuts or engravings is a pleasure not only to the mind, but to the senses of sight and touch as well.
It is for these reasons that fine and rare books are worth collecting. Novice collectors sometimes ask what particular works are worth spending their money on. A basic principle of collecting is to simply acquire fine and rare volumes by authors you have read or intend to read someday, if there is world enough and time. Your collection will thus reflect your tastes and interests.

Some collectors organize their acquisitions around a well known illustrator - Dore´, Rackham, Dulac or Pogany. Others yet look solely to the material and craftsmanship of the binding - morocco, calf, vellum. In all cases, however, you should buy what interests and excites you as a collector.

As long as your collection represents you and gives you pleasure, you will be satisfied with it and you will consider it money well spent. Of course, as you continue to collect books your tastes may change over time, or you may want to trade some of your holdings to redirect your collection around a new interest you develop. In some cases, you may be able to divest yourself of previously acquired books at a profit, depending upon the length of time you have held them, the condition they are in and prevailing market trends at the time you sell them. But love of the books themselves should be the amateur collector's motto when book trading is involved. Looking at collecting fine and rare books for speculation puts you into a business rather than a hobby.

However, one good business principle that must be observed in all collecting activities is to buy wisely. There may come a time when you want to liquidate the collection and hopefully realize its appreciated value. From an investment standpoint it is best to buy only from knowledgeable and reputable dealers you trust. You also need to buy books in as near "mint condition" as possible. Books are not like marketable securities, but they can and do appreciate in value over time. Fashions and trends can affect the value of books just as other collectible works of art. But classic authors, illustrators and bookbinders are classic because they have withstood the test of time.